Minor League Baseball Uses Groupon to Compete with St. Louis Cardinals
by Stephen Bolen on May 21, 2010
St. Louis loves baseball. That's no lie. On any given game day, you can expect sold-out crowds to file through the turnstiles at Busch Stadium. Baseball is as much a part of St. Louis as our beer culture (which, by the way, is still going quite strong).
The Gateway Grizzlies are an independent Frontier League baseball team based in Sauget, Illinois (a St. Louis metro-area suburb). The Grizzlies manage to draw anywhere from 180,000 – 200,000 fans per season – a far cry from the 3-plus million fans of the St. Louis Cardinals.
So how do you market this minor league David with the St. Louis Cardinals Golliath only 5 minutes away?
Simple, turn to Groupon. That's how the Gateway Grizzlies were able to push 5,826 Groupons out the door in a weekend promotion.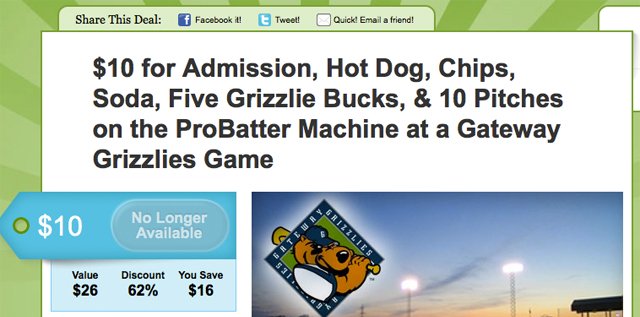 I sat down with Jeff O'Neil, the Gateway Grizzlies Media Relations director, to ask him about the promotion, how social media integrates in their marketing mix and how concessions – yes, concessions – drives a lot of traffic to the ballpark.
Interview with Jeff O'Neil of the Gateway Grizzlies
Stephen: As an independent league team, with I'm assuming a very minor-league marketing budget, how have you leveraged social media to help promote ticket sales, the team and the Gateway Grizzlies experience as a whole?
Jeff: Social marketing has become a huge element into our marketing plans for our 2010 season. With an ever expanding market of "getting in touch" with people, social marketing sites such as Facebook and Twitter have become our number one priority. We obviously still do our standard radio and television advertising, but social media makes it so easy to advertise our always changing promotional ideas.
Stephen: I've noticed that the Grizzlies have a Twitter account, which was used to promote the Groupon. I've also noticed that it looks like members of the team have access and have been posting updates (below). How has enabling your organization with social media tools been received? Are the players open to giving the fans insight of the day-to-day grind of an independent leaguer's life?
Jeff: We are still in the test stages of our Twitter account. Along with players, we will also being tweeting during all game home and on the road. Most players are open to give the insight — a lot of fans do not realize the grind these guys go through during the summer. Playing every day, living with host families, etc. I think people will end up with a much better understanding by reading about a day in the life of a minor league ball player.
Stephen: The Groupon promotion brought in nearly 6,000 purchases, good for any game this season. What does this mean for your yearly attendance figures?
Jeff: We always have goals when it comes to doing a promotion, Groupon being the most recent. The biggest goal of the promotion is to get people who may have never been to the ballpark or have been hesitant to come out to come and see what we have to offer. One of the hardest things in marketing is selling your initial product. Once we get them in the door, we feel like we do a good enough job that they will come back.
Stephen: What challenges have you faced having to market unknown players – and really, a relatively unknown team – with a Major League Baseball team (that draws north of 3 million fans per season) less than 5 minutes away from the Grizzlies ballpark?
Jeff: It's obviously a challenge having a place like Busch Stadium in your backyard. I emphasize to our interns each year during training about the challenges for media coverage and things like that. It makes our staff work harder by going to community events and appearances and trying to be everywhere so people always see the name "Gateway Grizzlies".
Stephen: In this economy, entertainment dollars are stretched pretty thin. I've noticed that the Grizzlies are pretty aggressive in ticket prices, promotions and "unique" concession items. For instance, in 2006, the Gateway Grizzles rolled out Baseball's Best Burger – a savory (or unsavory, depending on your caloric tolerance) bacon cheeseburger with a Krispy Kreme glazed doughnut bun. The 1,000-calorie burger has been featured on CBS, the Travel Channel and Food Network, obviously brining a lot of exposure to your organization. Baseball aside, do people come to the park just to try that unholy monstrosity?
Jeff: Our concession items have always been a big part of the draw here at GCS Ballpark. Items like Baseball's Best Burger and Baseball's Best Nachos are a huge attraction. We have numerous events out here where we only sell regular concessions items and people always ask if we are selling the unique items. The answer always is you have to come to a Grizzlies game to try them out.
More Info
For more information about the Grizzlies, you can visit them on the web at GatewayGrizzlies.com.
For the best write-up on Groupon I've ever seen, head over and read this TechCrunch piece by Steven Carpenter, "A TC Teardown: What Makes Groupon Tick." You'll find some pretty amazing stuff, like how Groupon gets more of its traffic from Facebook than any other site, including Google, and when people are searching they are typing "groupon"- some pretty potent brand equity for a company that's less than 3 years old.
A must read.